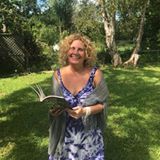 Join Dom as she chats with Georgie from Freshbox deliveries on local wellness strategies. Some hints and tips on staying well now! 
Georgie runs fresh box organics which is a home delivery service for organic fruits, vegetables, groceries and wine here in The Sunshine Coast. 
If you enjoy wellness podcasts and love to learn new interesting info. Then join us down under for teh best conversations and info on wellness and joy! 
Thanks to Chrislane108.com for the music at intro and exit. We love your music and good vibe meditations. 
Visit us www.medicineroom.com.au